Inside the resilient world of the business of art
Professor, Senior Deputy Dean (External Engagement) and Director AGSM
Download The AGSM Business of Leadership podcast today on your favourite podcast platform.
The business world of art has remained resilient in recent times, with significant technological developments in how art is created, marketed and sold
In 2019, the global art market was booming. Art fairs drew crowds of international buyers who would fly in to make purchases, making in-person events a central part of the art buying world. Then 2020 came along and, like many industries buffeted by pandemic-induced market disruptions, auction houses, art dealers and fairs had to cancel or reschedule in-person events as a result of travel and event restrictions.
Edvard Munch's painting, "The Scream", could well encapsulate how the business world of art felt about the impact of COVID. The global art market shrank by 22 per from US$64.4 billion (A$93.03 billion) in sales in 2019 to US$50.1 billion (A$72.37 billion) in 2020, according to research from UBS and Art Basel. Art auction houses had to quickly pivot to survive – and pivot they did. Online sales more than doubled from US$6 billion (A$8.6 billion) in 2019 to US$12.4 billion ($A17.9 billion) in 2020, representing a full quarter of all sales by value of the overall art market in 2020.
The growth in online art sales has also been driven by the crypto art, or digital artworks authenticated with non-fungible tokens (NFTs). Interest in crypto art piqued when auction house Christie's sold an NFT-based work by American artist Beeple for US$69.3 million (A$100.1 million) in March 2021, and since then total sales value of art-related NFTs on the Ethereum, Flow and Ronin blockchains have increased over a hundredfold to US$2.6 billion (A$3.8 billion).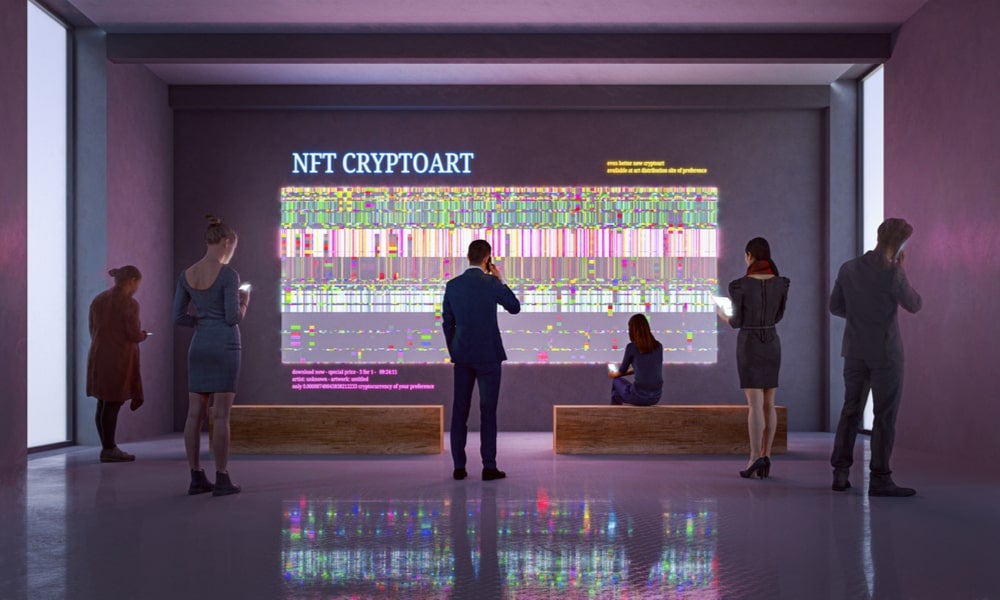 However, given the uncertainty and developments of the past few years, key questions remain for the art industry. What does the future hold for the art auction industry? What changes and developments will stick, and how have buyer markets shifted? The answers to these questions were recently discussed in the AGSM's Business of Art podcast, in which Professor Nick Wailes, Senior Deputy Dean and Director at AGSM @ UNSW Business School, spoke with Coralie Stow, an AGSM @ UNSW Business School Alumna and CEO of Menzies Art Brands, a leading auction house which conducts specialist auctions of Australian and international fine art and sculpture. Prof. Wailes also spoke with Dr Eric Lim, a Senior Lecturer in the School of Information Systems and Technology Management at UNSW Business School and founder of the UNSW Crypto Clinic, about NFT technology and how it is reactivating creative industries while providing protection from online copies of artwork being distributed on the internet.
Who is buying and who is selling?
There have been a number of broader socio-demographic trends which are impacting the spending patterns and motivations of both art buyers and sellers in recent times. Older generations such as the Baby Boomers are often downsizing and moving into smaller or different homes, and in the process they might pass artworks they feel don't fit their lifestyle anymore onto their children or grandchildren. "We're now seeing these works coming back onto the market and being re-evaluated," said Ms Stow.

She also observed a broadening of the market, with younger collectors interested in works from different periods of art, from 19th century and 20th century works through to modern and contemporary pieces. "It's quite exciting to see a new generation of collectors coming in and some very good collections coming onto the market because that older generation is moving on in their lives and often doesn't want to retain these collections for their estate," she said.
In terms of motivations, there are different reasons why collectors purchase art, and Ms Stow said collectors sometimes buy very eclectic collections. Sometimes people may buy a property and need to decorate it with art – and she said they will buy until they've filled it up and then conclude their purchasing. On other occasions, homeowners may add a modern extension to a traditional house, such as a Victorian cottage, for example. These customers often want traditional paintings for their front rooms and maybe some more contemporary works of art for their back rooms.
"People are collecting across the whole spectrum. And that's quite encouraging to see because rather than being very narrow in your interests, it's great to be interested in both cutting-edge, contemporary art and appreciating everything that's been done in the past," said Ms Stow.
Read more: Non-fungible tokens (NFTs): a turning point for digital content creators and artists?
The impact of COVID on the world of art
COVID was a two-edged sword for the art world. While government-related mandates and restrictions on travel and movement hit auction houses and art fairs hard, Ms Stow said people had other reasons to be interested in art through lockdowns. "Because people couldn't travel and they were restricted in a lot of the leisure activities they would normally do, it seemed like art became an activity that people said, 'Well, I can buy some art. I can renovate my home perhaps or I can buy some art. I've got this cash sitting around that I can't spend on an overseas holiday. I'd like to do something life-enhancing with it. So, we did see new buyers coming into the market and I'm hoping that those people are going to stick around," she said.
While physical viewings and auctions were still important for Menzies Art Brands between various lockdowns, art dealers and auction houses had to focus more on online engagement and sales in order to cater to both new and existing buyers through COVID. There was already a general trend in the industry towards online catalogues and sales, though this accelerated over the past couple of years with more time and effort put into photographing works so clients had the details required to evaluate potential purchases.
"They are using the online marketplace to cut out a little bit of friction around travel or having to be in a certain place at a certain time. But they also still do, if they can, want to view the physical artwork and that remains our intention to make that possible," said Ms Stow.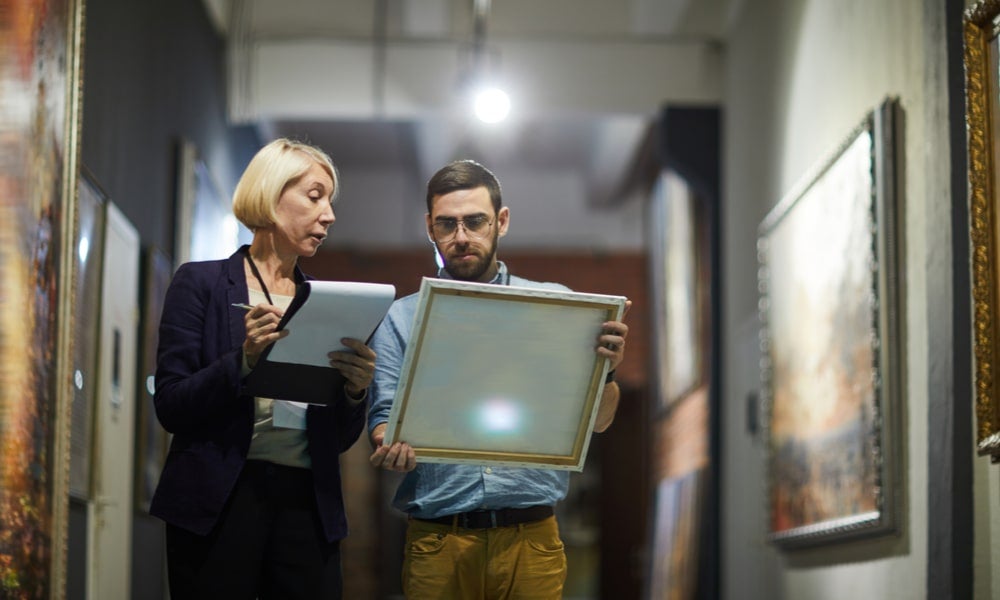 Digital art and technology trends
There have been significant technological developments in how art is created, marketed and sold in recent times. These developments highlight an important point about the definition and value of art, according to Ms Stow, who said those in the market for art should carefully consider these points. "What does the art say? What does it have to say to the way we live now? Does it have value? Does it have meaning? Is the form and the content working together?" she asked. "I think NFTs facilitate an artist selling digital art, I get that. But if the artist themselves has nothing to say and their works have no great interest, then I still wouldn't be recommending somebody buy it."
It is still important to be aware of future developments in the art world. Ms Stow gave the example of a sale from last year which involved a drawing created on an iPad by English artist David Hockney. The digital drawing, which sold for $171,000, was printed out and sold as an original one-off artwork. "So, this is where innovation can happen, but it also has to fit within the traditional scope of the art market as we operate," said Ms Stow.
Blockchain is another more recent and significant development, particularly with the advent of NFTs. For artists that are practicing today, Ms Stow encouraged them to look at blockchain technology to help secure their market in the future. However, reverse engineering it for art that has been around for anything longer than a few years is more challenging as the artwork has to be authenticated in its original iteration – before it is set up a blockchain. "I think certainly for artists that are practicing now, this is something they should be investing in and researching because it will give collectors confidence to buy in the future," she said.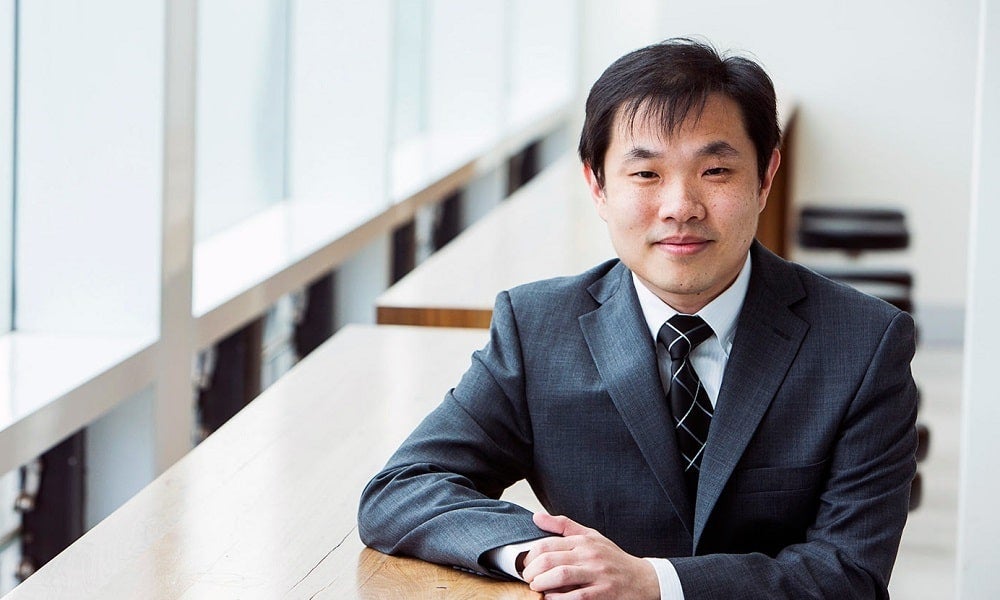 A deeper dive into NFTs and Blockchain
UNSW Business School's Dr Eric Lim, who also serves as the Fintech Director of UNSW Sydney's translational research lab UNOVA, explained NFTs are a subset within the cryptocurrency domain. "An NFT is simply a unique token that actually resides on a public infrastructure, like a Blockchain. It is non-fungible and what I mean by that is that the token is one of a kind. So, there isn't another token that can actually replace it. Fundamentally, it represents ownership of an underlying asset," he said.
For a long time, Dr Lim observed small-time art creators have not been able to monetise their creations because they don't have the backing of big legal teams or publishing companies to help protect their IP. As a result, the inability to prove provenance of their IP has led to piracy of their work as well as predatory rent-seeking behaviours by unethical publishers. "These are well-known problems in the whole creative industry. It is now possible with NFTs to actually solve the issues of piracy and prove provenance of IPs created by the artists," he said.
Subscribe to BusinessThink for the latest research, analysis and insights from UNSW Business School
Further, if NFTs reside on a blockchain with smart contract capability, this makes it possible to dictate how artists would like to manage their property rights to prevent predatory behaviour by unethical publishers. So, for example, he said the artist can now determine, with immutable contractual terms and conditions, the right of a buyer to resell the IP and to enforce royalties upon resale, or even enforce the right to create derivative commercial products out of the IP. Failure to do this could actually stop the NFT from being transacted, and by extension, Dr Lim said this allows artists better control monetising the underlying asset.
He also predicted NFTs will serve as a cornerstone of the Web 3.0 economy or in an environment like the Metaverse. Because of their underlying digital infrastructure, they will only be able to support asset ownership transactions and general economic activities in creative businesses if the concept of immutable and verifiable scarcity is actually enforceable. "In this particular Web3 environment, because traditional physical boundaries like geography or nation state borders are unlikely to apply, communities are likely to form around identities associated with NFTs," he said.
Listen to the full episode on The Business of Art by downloading the podcast here or for more episodes in the series click here.